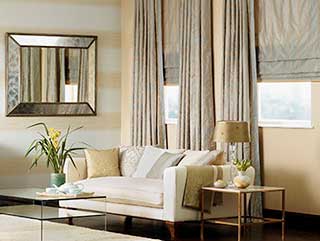 If you're looking for the perfect way to add some style and decor to your living room, consider having new window shades installed. This is a part of home improvement efforts that people often miss, but it can offer you a great decorative value for minimal costs. Blinds offer endless benefits with regards to convenience and easy sunlight filtering. They also make bringing a new style into your living room a real breeze. There are scores of different types that you can choose from, each bringing unique functionality and decor.
The Benefits of Roman Shades
Roman shades are a classic choice for homeowners because they are simple, beautiful and effective. When closed, their pleated fabrics unravel to cover the entire window, doing an excellent job of blocking any unwanted light while adding to the aesthetic appeal of the room. When these shades open, the fabrics overlap and fold over one another neatly at the top of the window. These coverings come in a range of fabrics, colors, and patterns, so it's no hard to find a design that will suit your preference and complement the rest of the room.
Roller Shades Can Fit Anywhere
These window treatments work to filter out light and provide privacy while ensuring that they add to the decor of your home. They are especially suited to large, open planned rooms with big windows. When drawn, they can be adjusted to let in as much light as you'd like. When they open fully, they roll up into a compact cylinder set up at the top of the window. This means they are visible when they are needed, but are all but invisible when they are not. If you opt to have motorized roller shades installed, then you can add a lot of convenience and functionality to the room as well. These window treatments can allow you to draw the shades with a simple push of a button.
Double Rollers For Extra Effectiveness
Want to prevent sunlight from entering a certain room of your home or business? Then a good set of darkening blinds can make all the difference. If you want to cut out as much light, heat, and visibility as possible, consider double rollers. These window treatments make use of two layers of slats or fabrics to ensure that as little light is allowed through the blinds as possible. They do all of this while still looking stylish, making them the perfect addition to modern houses, office spaces and apartments.
Venetian Blinds For Practically any Room
These window treatments provide one of the most durable ways to ensure privacy and light control while still adding to your property's sense of style. Because their slats are made from versatile materials, they are generally more resistant to damper climates such as those found in kitchens or bathrooms, and their slatted design also makes them relatively easy to clean. Because of this, these types of window blinds are one of the most common ones used today.
Want to ask our experts a question or two? Then go ahead and schedule a free consultation today!