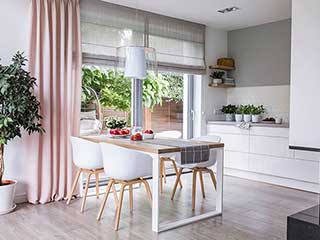 Whether you are creating the perfect living room decor or want to give your office a more cozy feeling, you should definitely explore our range of Roman shades. These window coverings can be an affordable and effective way to achieve the look and atmosphere you want. They are made from top-quality materials and are exceptionally strong and durable. Like all our products, they also come with a 5-year warranty. It is easy to adjust these coverings in order to let the ideal amount of ambient light in during the day, while at night you can expect complete privacy.
A Vast Range Of Options
The different Roman shade models in our vast range of products come only from leading manufacturers. They also come in numerous design, color and pattern options for you to choose from. Different people have different preferences, and different rooms will require varying degrees of privacy and vastly different decors. But before you start contemplating those aspects, there is a more pressing choice to be made. The first thing that you need to do is decide between the two styles that are the most common ones.
Choosing The Right Style For You
The soft layer pleated window blinds are great for a classic decor which is both elegant and inviting. The models with a flat panel effect are more modern. Their minimalistic design can match any room and setting practically, whether its a kitchen, bedroom or an office. They are great for both homes and commercial businesses.
Let Us Help You Decide
By contacting us, you can be absolutely confident you'll end up making the best possible decision for your property. If you cannot find a model that you like, you can count on us to create custom shades specifically for your windows. Our team here at Tustin Blinds & Shades will work with you to find the design, color, and pattern that speak to you. Once the decision is made, you can count on us to perform the installation very quickly and to ensure that your new Roman shades match your windows perfectly.