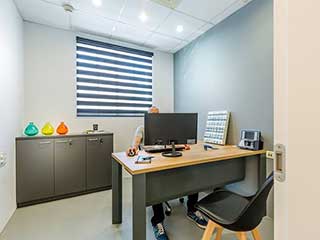 From offices to clinic waiting rooms to restaurants, any room that's meant to entertain customers or at least make their sojourn more pleasant needs to feel comfortable enough to make them enjoy the prospect of returning (or at least not dread it, when it comes to dentist clinics and small children, for example). The right shades can improve such a space in more ways than many people realize.
Aesthetics and Climate Control
Window coverings can spice up the look of a place, especially when you pick out a design and color scheme that fits the rest of the décor. However, their true purpose is much more practical. Too much sunlight can damage your wallpaper or furniture, and make things uncomfortably hot and bright. Too little, and you end up wasting electricity on extra lighting, and creating a claustrophobic atmosphere. Easily adjustable layered shades, for example, can solve all these problems in one fell swoop! You also have the option of going with something like faux wood blinds that offer a classically appealing look, without the extra maintenance that actual timber requires.
Made To Fit
While homes tend to have similar types of windows, businesses are much more diverse. In particular, restaurants and storefronts tend to have much longer contiguous sun-exposed areas, and covering them is no less important. Restaurants need comfortable seating and inviting aesthetics for their diners. Stores also need comfort, but also benefit from being able to hide the merchandise while closed so as to not tempt thieves. Our custom made blinds and shades can be fitted to a glass aperture of any size and shape, including large doors. There are even motorized shade options that can allow you to control daylight input with the simple push of a button, or set a timer to have your shades open and close automatically.
A Diverse Selection
There are plenty of different styles on the market, and Tustin Blinds & Shades can provide all of them! From rotating blinds that provide full coverage with micro-adjustable angles for any time of day, to lovely pleated Roman shades or patterned bamboo hanging covers. Our products come in hand drawn and motorized options, including draperies and skylights, with full installation services and professional décor consultation appointments available.
The Best Source For Blinds Near You
There's no reason to wait. Schedule an appointment for a free professional consultation and let Tustin Blinds & Shades help you choose the perfect new window treatments for your business.