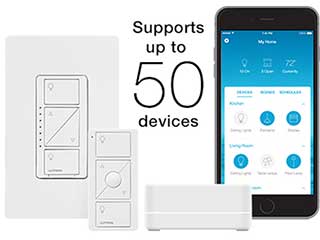 With smart window shades, you can save money on energy and utilize sunlight diffusion to the max. Optimal control over sunlight lets you easily maintain indoor temperature, energy efficiency, and levels of brightness. Motorized shades, Lutron controls optimized, provide one of the best solutions for inexpensive made-to-measure window coverings with remotes. You can use switches as well as dimmers or Wi-Fi technology to control your Lutron shades with your phone. We offer customers custom made coverings for windows with silent motors and all sorts of elegant designs. Our Tustin Lutron shade solution specialists can help you pick and choose different aspects that work for your needs. And what's great is you can start learning more with a free estimate on motorized shades for your windows. With help from our specialists, you'll find affordable and high-quality shade solutions perfect for your needs.
Lutron Shades For Tustin Windows, Walls, Skylights
The best thing about made-to-measure window coverings is you can ensure complete protection. Covering up the entire size of the window helps to make sure you don't have sunlight coming at you from small gaps on the sides or at the bottom. Lutron shades, custom made to fit the glass surface, will always cover the entire length and width of the area when closed. And with simple remote control options, you can adjust their position and capabilities anytime.
Smart Motorized Shades – Sheer or Blackout
Looking to optimize energy efficiency? Motorized Lutron shades give you effective and classy ways to do that. With brightness and temperature sensors, you can ensure that. And with wireless smart motorized shades, Lutron offers customers the best innovative technology for automatic window coverings. From excellent bedroom additions to large glass wall window shades, these motorized covering solutions fit any size. Lutron shades give you elegant designs to choose from as well. So your smart window shades can work great and look great too. Need better privacy? Blackout shades will ensure that. Looking for excellent sunlight diffusion? Sheer Lutron shades will let soft sunlight pass without harmful UV or frustrating glare. To find the best motorized Lutron shades for your Tustin area home or business, book a free consultation appointment! Check out all the different options and get a free estimate on motorized shades for your windows.