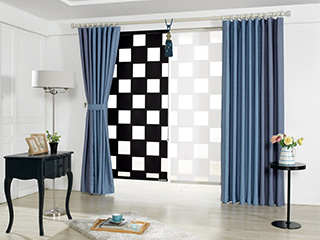 Hunter Douglas is a well-known Dutch multinational corporation that makes window blinds and coverings. One of their most popular kinds of window coverings is their unique silhouette blinds, also known as sheer shades. These shadings are sure to provide form, function, and sophistication to any home or office they're installed in.
The Signature S-Vane
Sheer Shades are unique because of the signature "S"-vane or slat that is suspended in the middle of the blind. This vane can be tilted to allow the right amount of light into the room. It also comes in 2, 3 and 4-inch widths. The shades are sheer, meaning they can provide some privacy but not complete invisibility. They come in a variety of different textures and colors that work well with the inner "S"-vane.
Excellent Light Filtering Capabilities
In addition to the width, color and texture options, there are also light control options available. Those can be translucent, light dimming and room darkening. In addition to the S-vane, these blinds also feature an independently operated roller shade for further control of how much light you'd like to let into the room.
Versatile Control Options
The vanes can also be tilted to help you achieve your desired level of privacy and the amount of ambient lighting you want. Hunter Douglas's sheer shades were named the Product of the Year by the Window Covering Manufacturers Association in 2015. Their high manufacturing quality and reliable capabilities make them an excellent choice for any room or office space.
Need Some Help Deciding?
Our experts at Tustin Blinds & Shades are proud to offer award-winning shades like these at a variety of colors. It's very important that you find the right type of window treatment for your needs, as otherwise your privacy can be compromised. Not only that, but a window covering that doesn't match the rest of the room's decor can ruin its appeal, which is bad when it comes to living rooms, and worse when it comes to offices that need to host potential clients. Our team is always happy to consult every home and business owner on the types of window treatments that will best suit their needs. Get in touch with us today to schedule a free consultation appointment.