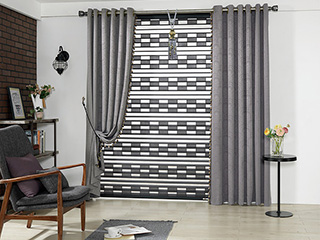 Sheer shades offer a beautiful alternative to standard blinds. Their distinct design incorporates soft transparent fabric elements that are held between two opposing panels. These intricate surfaces work together to very softly divert and diffuse light. This unique system allows this style of blind to control light flow in a way that is spectacular to look at as well as incredibly practical for those that prefer to avoid harsh or direct sunlight.
Made To Measure
These sheer shades can be altered to a specific size to fit your windows. All we need are the dimensions of the window you want to cover and our tailoring team will make the design of your choice perfect for your rooms! Don't put up with gaps or inconvenience due to size differences! Nothing is more aggravating than having an inadequately sized and positioned blind. Let our team make your blind to your precise specifications!
Design Ideas With Sheer Shades
If you love basing your interior design on the manipulation of light throughout your space, no design of blind will give you better transparency control than the sheer shade. This style looks gorgeous in front of wide windows that let in a large amount sunlight. They're simple to use and allow you to softly guide rays at a level that suits you. The rotating fabric vanes allows light to gently travel into your space with delicacy. Cover your windows with this style to see an almost complete transformation in the way your rooms look during the day.
If you have any questions about this design or any of the others we stock, contact Tustin Blinds & Shades for more information! One of our experienced sales staff will be happy to address any concerns or requirements you have. We're always happy to help! Get in touch today!