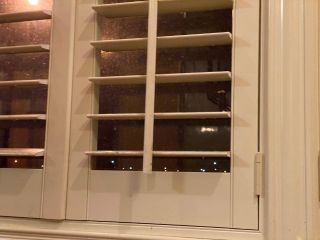 Plantation shutters are a timeless and versatile window treatment option that offers numerous advantages compared to other window coverings. Here are some key benefits:
Elegance and Aesthetics: Plantation shutters add a touch of elegance and sophistication to any space, enhancing its overall look and ambiance.
Light Control: Enjoy complete control over the amount of natural light entering your space, providing privacy and reducing glare while preserving your outdoor view.
Energy Efficiency: Our shutters are designed to insulate your windows, helping maintain consistent indoor temperatures and reducing energy costs.
Durability: Crafted from high-quality materials, our plantation shutters are built to last, ensuring long-term value for your investment.
Easy Maintenance: They are easy to clean and maintain, making them a practical choice for busy households.
Customization: We offer a wide range of customization options, including colors, materials, and styles, allowing you to create window treatments that match your decor perfectly.
Motorization with Somfy and Lutron:
Experience the ultimate convenience with motorized plantation shutters. We proudly partner with industry-leading brands like Somfy and Lutron to provide cutting-edge automation technology. Control your shutters effortlessly with a remote, smartphone, or voice command, combining luxury with efficiency.
Free Consultation:
At Tustin Blinds & Shades, we understand that selecting the right window treatment can be a daunting task. That's why we offer free consultations. Our experts will visit your home or business, listen to your specific needs, and offer tailored recommendations. We'll help you explore various options, whether it's plantation shutters, blinds, shades, or other window treatments, ensuring they seamlessly complement your space and style.
Explore Our Window Treatment Solutions:
Whether you desire to enhance your home's aesthetics or improve the functionality of your commercial space, indoors or outdoors, our extensive range of window treatments has the perfect solution. From timeless plantation shutters to contemporary blinds and shades, we cater to diverse preferences and requirements.
Start Your Transformation Today:
For those searching "plantation shutters near me" or "quality blinds and shutters in Tustin," your quest ends here. Contact Tustin Blinds & Shades for a complimentary consultation, and let us inspire you with innovative window treatment ideas that elevate your living or working environment.
Elevate your Tustin property with exquisite plantation shutters and window treatments from Tustin Blinds & Shades. Experience the perfect fusion of beauty, convenience, and energy efficiency. Reach out to us today to schedule your free consultation and embark on a journey to transform your space.