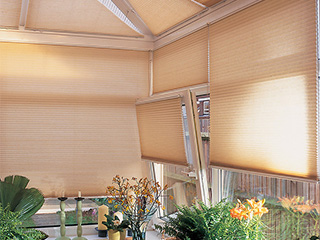 Do you want window treatments that can help you save money on energy? Then you should definitely consider getting cellular shades. Our local company offers a fantastic selection of models from top manufacturers. This wide selection helps us meet every customer's individual needs.
Enhanced Energy Efficiency
Cellular shades are called that for a reason. These window coverings are built in such as way as to create pockets. These pockets then trap air and thus prevent the escape of heat through the open window. This turns the shades into barriers that reduce the heat transfer and thus save your HVAC unit some effort. The reason for the name is the cellular (or a honeycomb-like) pattern that's created as a result.
High-Quality Models
The cellular window shades that our company offers are made from high-quality fabrics. These durable fabrics will not wear out quickly like some other cheaply made counterparts. When you get your window shades from us, you can expect them to be strong and able to withstand the test of time. All of our products come with a 5-year warranty. That means you can rest assured that you will enjoy using them for years to come.
Many Options Available
The sky is the limit regarding light filtering, design and color options that are available with these window treatments. Choosing a sheer model for the kitchen allows you to enjoy plenty of light during the day while getting your preferred level of privacy at night. The opaque models can be great for bedrooms, for example. They will give you privacy and the opportunity to sleep in with their enhanced light blocking capabilities. Our experts here at Tustin Blinds & Shades will happily guide you through the selection process. Leave it to us to ensure that you find a type of window treatment that answers all of your needs.