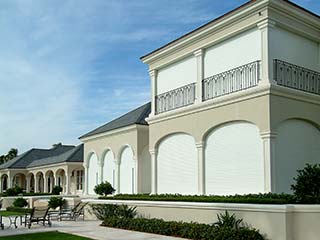 For great automatic window coverings, Somfy blinds offer some of the best choices. With motorized remote control wireless shading solutions, you can add natural sunlight diffusion and better climate control for indoor spaces. The diverse designs and advanced remote control technology of Somfy shading solutions have become synonymous with the best motorized blinds and shades in the market. For the Tustin area, our Somfy blinds installers can custom make window treatments and outdoor shades in custom sizes and designs. And all at low costs and high quality.
Rolling Shutters For Big Windows
Perhaps the ultimate choice for window walls in office spaces and residential properties, rolling window shutters provide a comforting feeling. These motorized solutions let you press a button or a switch to bring the shutters rolling down at the end of the day. And with the silent motors, raising the rolling shutters early in the morning won't wake anyone up. Motorized shutters also provide enhanced security, due to the more durable materials used.
Motorized Blinds and Window Shades
You can combine the classic Venetian blinds and Roman shades with remote control features that make them ideal for the modern world. With Somfy controls, voice commands and wireless smartphone connectivity have become the norm. Connect your Somfy motorized blinds with smart home systems and create an optimized way to control sunlight and temperature in any part of your Tustin property. With soft sheer roller shades, you can create diffused sunlight ambiance that utilized natural light and makes for pleasant illumination conditions. Need better privacy or to improve your sleep? Blackout blinds and window curtains with motorized Somfy controls will serve you very well. No need to get out of bed to open or close them. Your Somfy blackout blinds and shades can draw themselves.
Motorized Patio Covers and Canopies
For outdoor shades, Somfy has plenty of solutions that provide the same enhanced utility. Need to add protection from sunlight at different angles? Motorized awnings will offer you a lot of variety, as will rolling pergola screens. Perfect for Tustin patios and decks, motorized canopies that utilize Somfy controls have become the most high-tech solutions. You can enjoy the same smart remotes and wireless controls and motorization here as well.
Best Somfy Blinds in The Tustin Area
Let us help you find the most suitable motorized shading solutions for your properties. From office spaces to gyms to apartments and multi-story houses. Somfy blinds and shades offer all Tustin properties fantastic solutions for shade and privacy. Set up a free consultation to learn more about these smart motorized blinds, shutters, and shades.