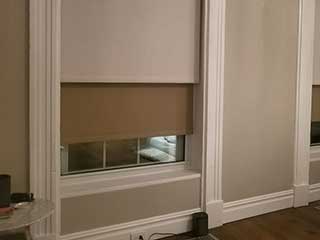 Blackout blinds are the best defense against sunlight. With a set of these, you can make a room sun-proof while keeping it comfortable, soft-looking, and airy. Our blackout blinds come in all sorts of colors and designs. Optional features include embellishment, nonstandard structure, and motorization. Like all Tustin Blinds & Shades products, these blackout blinds are custom made, and we provide delivery and installation services throughout Tustin.
What Makes Blinds Blackout?
Don't let the name fool you; it has nothing to do with color. Blackout blinds are made of thick, soft fabric, with a flexible layer of foam lining. This foam is very reflective and bounces any light that penetrates the fabric layer back out. Since the reflected light has to pass through the fabric again, these blinds don't create any unpleasant glare from either side as they repel the sunlight. Blackout blinds block light like solid walls, but look and feel like normal cloth blinds and allow air to circulate.
Vertical Blinds And Roman Shades
Blackout blinds can be simple, upward-sliding racks of rotating fabric panels, but there are other options. If you have a long, low window, our vertical blackout blinds can fit your frame. If you want something more decorative, give our blackout Roman shades a look. These elegant window treatments combine the classical appeal of Roman pleats with the high-tech sunlight protection of blackout fabric. Talk to our team about embellishing your blackout Roman shades with valences, trim, or slits and tassels.
Bedroom Blackout Blinds
Your bedroom needs to be comfortable for sleeping in, and private. It also should be able to protect your bedding, clothes, and other delicate items from harsh sunlight that could damage them. These are the reasons why bedrooms are the most popular places to use blackout blinds. We can make your bedroom blinds in any color, to fit whatever decoration scheme you're going for and keep a restful environment. Bedroom windows are also great places for Roman shades, for some real classic elegance.
Office Blackout Blinds
Office, waiting room, and library windows also benefit from blackout blinds. Sunlight is as uncomfortable for employees and clients as it is for sleepers. It can also be as destructive to computer screens and wires as it is to furniture and wallpaper. Blackout blinds can be drab and unassuming to better fit a business aesthetic, or richly decorative to bring a work place to life. Commercial establishments are also more likely to have long, low windows. This is where Tustin Blinds & Shades's vertical blackout blinds can be a blessing.
Motorized Blinds Options
Even the best blinds in the world are little use if you can't get around to draw them. Even if you have a great memory, sooner or later you'll either forget to adjust the blinds or not be there to do it. Especially if you have a large property with a lot of windows. Automatic blinds can save you money over time. By ensuring that the windows are always protected when the sun is strong, they prevent sunlight damage and unwanted heating. Our motorized blackout blinds have lots of control options. Remote controls, timers, and – with the addition of some extra hardware – reactive sunlight and heat sensors. Invest in smart blackout blinds, and they might well pay for themselves over the coming years.
Affordable Blackout Blinds in Tustin – Free Quotes
Give us a call today, and we can hook you up with some new blackout blinds for any home or business near the Tustin area. Book a free consultation to find out more about all the available options.