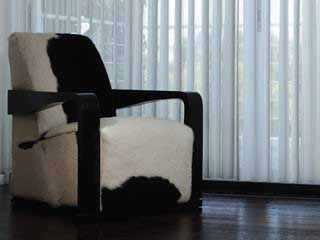 Our selection of high-quality vertical blinds is the perfect addition to any room. We give you absolute control over every aspect of the design process. From the color of your new blinds to the material we use, you get to decide everything. That means you can easily find the right combination to suit your home or business. Tustin Blinds & Shades has the no.1 custom blinds specialists near you. With our experienced team of technicians, we offer the best service and lowest prices around. Save money on vertical blinds for office windows, and keep your workforce comfortable on even the sunniest days. Install vertical blinds for patio doors to protect your home from unwanted sunlight and prying eyes. To find out how we can help you, simply schedule your free in-person consultation today.
Low Prices For Custom Vertical Blinds
We offer great deals on vertical blinds for windows of any type. Our amazing rates mean it's easy to get vertical blinds for sliding glass doors or any other window, no matter what size the aperture is. Because we provide an amazing range of different design options, including wood, metal, and vinyl, it's easy to match your new blinds to any room in the house. A set of vertical blinds with curtains is an excellent addition to your bedroom, for instance. All of this comes with our top-tier customer service and our rock-bottom prices. You'll never pay over the odds for the great level of quality we offer. To get started, why not schedule your free consultation in the Tustin area today?
Cheap Deals On Motorized Blinds
There are few things better than having total control over comfort in your home. The best and easiest way to do so is with our range of custom motorized vertical blinds. These offer an easy way to adjust natural light levels in any room, no matter where you are. Thanks to modern app integration, you can even control these window coverings directly from your smartphone. That means no more getting up from the couch to adjust each blind by hand. Just tap on your phone, and you can cut out glaring sunlight with ease. It could cost much less than you think to install motorized vertical blinds in your Tustin home or office. Speak with our team today to find out about our low prices on wired and wireless motorized vertical blinds.
Local Vertical Blinds Experts In/Near Tustin
We're proud to be the go-to provider of vertical blinds in the Tustin area. Our service takes you through our custom design process, where you get to decide on everything from the width of the vanes to the method of operation. Our representatives work with you from day one to help you decide on the ideal colors, materials, and designs that are best for your property. Once we've created your new window coverings, our vertical blind installations are quick and hassle-free. That means you can just sit back and enjoy a more comfortable, secure and convenient living space. It's easy to get started. Contact our team today to set up a free in-person consultation.