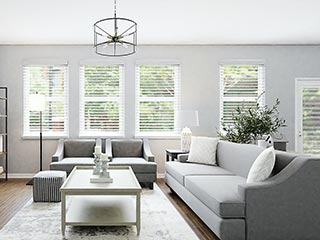 For those of us who like a classic look and want window coverings with a familiar, traditional, aesthetic, Venetian blinds fit that bill to a tee. With their long-standing reputation for reliable performance, Venetian window blinds have something to offer most types of properties. Tustin area customers looking for Venetian-style window coverings for their businesses or homes can get an excellent value out of custom made blinds utilizing this vane structure.
Why Motorized Venetian Blinds Are Popular
The classic look of Venetian window treatments has long since reached its popular status. Now, with advanced remote control options for blinds, a new variety of this traditional covering solution emerges. Motorized Venetian blinds provide an enhanced control method with far more convenient features that let you adjust sunlight levels without getting up. Push a button and the vanes will move or the blinds will rise or lower to suit whatever need you have at the time. Therefore, motorized Venetian blinds for windows have become more popular than their manual version. The smooth movement and control ease make these motorized window coverings in the Venetian style add both décor and practical usage features at the same time.
Tustin Venetian Window Blinds Installers Near You
You've got a lot of variety of designs and features to pick from when it comes to Venetian blinds, motorized or otherwise. To assist you in getting the best bang for your buck and ensure you get the remote control features you want and the style you like, our experts provide free estimates on all window treatments. Get in touch with us to schedule a consultation (for free) on Venetian blinds of the highest quality, at the fairest price near Tustin!