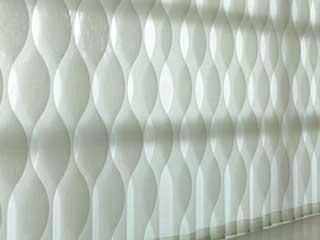 Looking to change your old window blinds in favor of new models with an improved design? Cellular shades might just be what you're looking for. There's more than one reason why these have become one of the most popular window coverings on the market. You may also know them by the name honeycomb blinds, due to the pattern created by their air-trapping pockets.
What Are Cellular Shades?
Essentially, these are sheets which are often made from plastic or synthetic material that has rows of grooves that create hollow honeycomb-shaped cells. These pockets, or "cells", then trap air and significantly reduces heat transfer, thus saving you money on energy spendings. Here are some of the reasons this design works so well.
Compact and Space Saving
The structure of this style of window shades allows it to collapse on itself very efficiently. So when the cellular shades are closed they end up occupying very little room. Their compactness especially stands out in comparison to typical wood panel Venetian blinds, for example. This is a very important quality for those that want to hide the blinds as much as possible during the day when they are likely to be open for the majority of the time.
Insulation and Energy Saving
The fact that the cells that make up the cellular design of these window coverings create a hollow space between them, makes the sheet an effective insulator. The air inside each cellular row acts as a buffer, making it harder for energy and heat to pass through the cover. This can help keep your house warm in the winter and cool in the summer. Simple roller blinds can offer some insulation capability, as they typically cover the window area with a fabric sheet, but many will prefer the more sophisticated look of and added benefits that come with cellular shades.
Great Styling Choices
The two sheets that come together to make up the honeycomb-like cells can be colored separately. This is great if you want the shades to be one color facing outside and a completely different color facing indoors. The sheer diversity of pattern and color makes for a wide range of options. Schedule a free consultation with our experts at Tustin Blinds & Shades and let us help you find the best type of coverings for the windows of your home or business. Cellular shades are a great choice for anything from kitchens to office spaces.