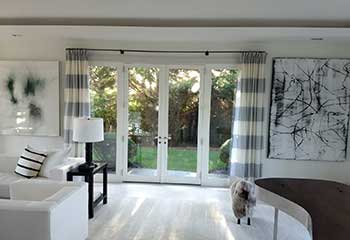 Blinds for French Doors
Customer Issue: Mr. Payne wanted blinds that would properly cover his French doors and suit them exactly, so he reached out to us.
Our Solution: Our professional worked with the customer to find the right blinds for his doors. Notes and precise measurement of the doors were taken so that blinds of the correct size and length could be created. Once they were completed, they were installed right away for the customer with expert care to assure they were even and aligned.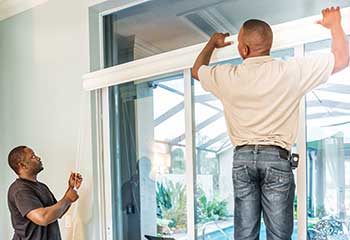 Exterior Shades
Customer Issue: The patio was used throughout the year and needed protection from the elements.
Our Solution: The customer chose sheer weave 1" grey exterior solar shades, giving him the highest protection by blocking 99% of the UV light as well as glare reduction. The fabric was waterproof and weatherproof, thus will protect the patio furniture from the rain and yearlong use of the area.
Joshua Blankenship
- Fountain Valley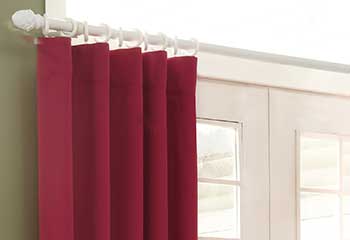 Drapery
Customer Issue: The customer had her house remodeled, including the addition of a new attic window that needed some treatment. With the help of our consultants, she chose a pair of drapes.
Our Solution: The nearly ceiling-to-floor window called for a pair of six foot long drapes, which the customer chose in a pale red velvet with gold scalloping along the bottoms. Our team put in a rod and hung the pair up on a set of sliding rings.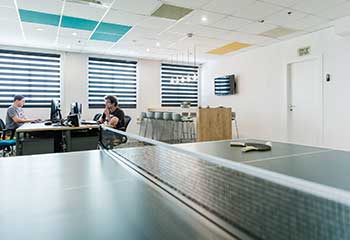 Venetian Blinds
Customer Issue: A medium-sized cubicled office floor needed some window treatments before it could open for business. The branch manager opted for sturdy Venetian style blinds.
Our Solution: Six large windows of two different sizes all needed their own blinds installed, and our manufacturing and installation team came through as always. Each of the office windows now has a full covering of trim, adjustable gray blinds on an easily usable cord.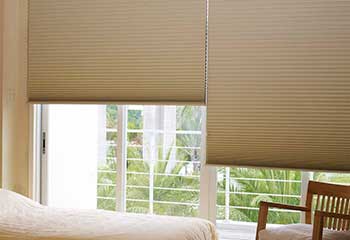 Motorized Cellular Shades
Customer Issue: Mr. Cimmera's new apartment had been giving him grief with cold drafts from the windows. He wanted something that could keep in the heat and stop the neighbors from peeking in!
Our Solution: Since the customer keeps erratic hours, our consulting team recommended that he get a motorized shade. The window was a standard 44x44 inch square, and the fine triple collapsible cellular shade and its motor were fitted and installed easily. Testing of the motor, remote, and timer was successful.